FROM THE BLOG:
Peak Time Rebates—a great way to save a little on your energy bill and support Oregon's clean energy future.
PGE's Peak Time Rebates program rewards you for shifting your energy use during peak times—when energy demand and prices are highest.
How it works:
During Peak Time Events, which typically last 3-4 hours, you'll get a text notification and have the option to reduce your energy use. If you do, you can earn a rebate on your next bill.
Why it's important:
Shifting your energy away from peak times makes a difference: you're supporting the use of more sustainable energy resources, keeping energy more reliable and helping keep costs lower for the community.
If you are a PGE customer, it's easy to enroll online by logging into your account. Pacific Power plans to roll out a similar program in the near future.
Check out other ways to shift your energy use and save on your electric bills in this month's blog post
Free webinar presented by ElectrifyPDX
Wednesday,

May

31st | 11:30am-12:30pm Pacific
Looking to make your home more energy-efficient, comfortable, and climate-friendly? Join us for a webinar on the benefits of home electrification! Invite a friend—help us spread the word about the benefits of clean energy.
In just an hour, you'll learn about the many advantages of electrifying your home, from reducing your household emissions to saving money on your energy bills. We'll share insights and practical tips on how to upgrade your home's heating, cooling, and appliances, what incentives are available, and how to clean up your electric supply. We'll also be ready to answer your electrification questions.

Congratulations to the winner of our induction cooktop giveaway!
We had a wonderful time at East Portland Sunday Parkways, where we held a drawing for a Duxtop portable induction cooktop. Congrats to Matthew, our winner!
Feeling lucky? Come visit our booth at Cully Sunday Parkways on June 25th, where we'll be having another giveaway of an induction cooktop. See you there!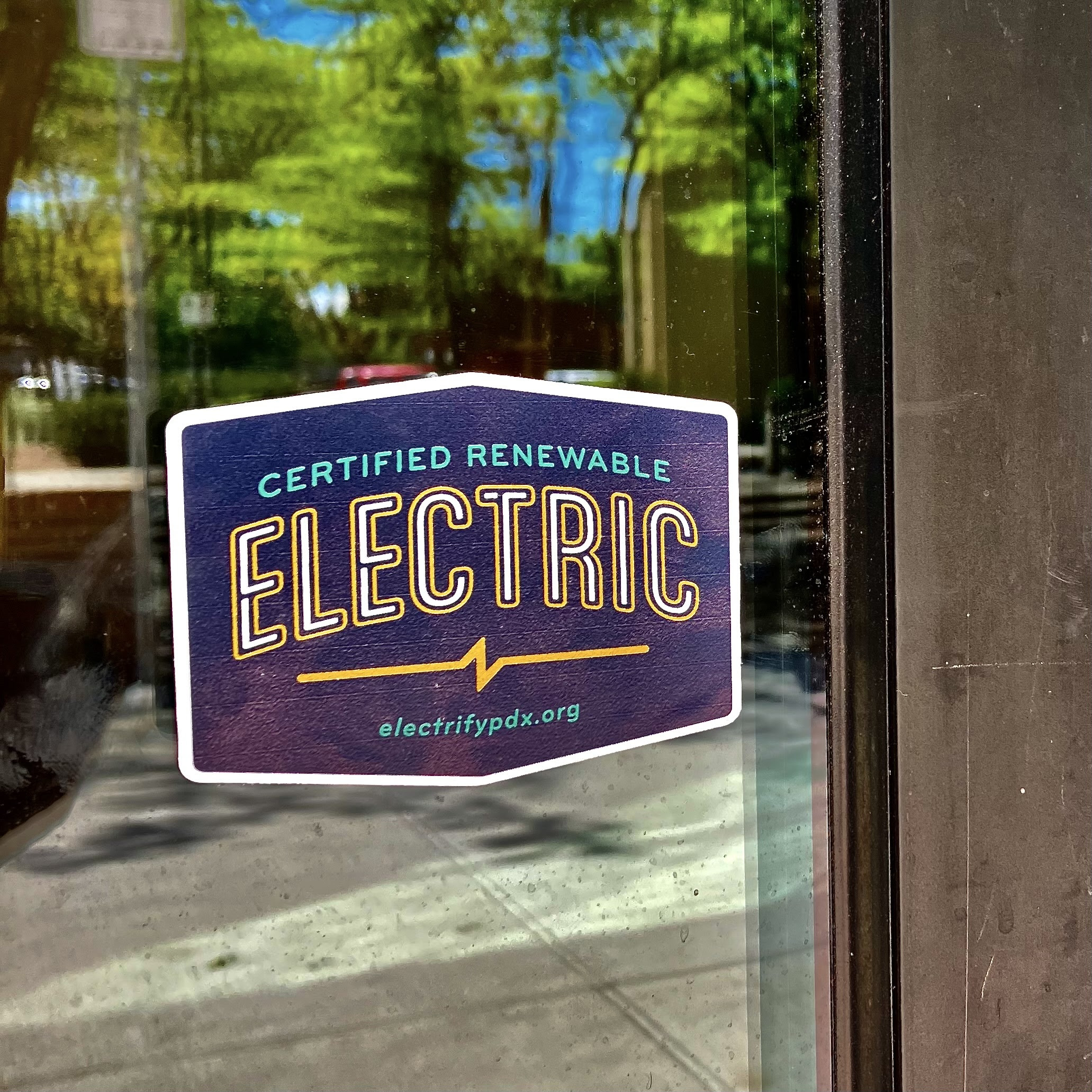 Get your business certified!
Did you know we certify businesses that are 100% powered by clean electricity? We now have window decals, so storefronts can easily display their ElectrifyPDX certification. If you own a business that's all clean electric, it just takes a few minutes to get certified! Let your customers know that your business supports a healthy planet.
Know a local business owner who might be interested? Let them know!
Low or no cost options for a safe and comfortable electric home
Are you ready to make your home more comfortable and energy efficient? If you income qualify, there are resources available to you at low or no cost! Options include:
Free water heater replacement
Up to 30% off your electric bill with community solar
Free weatherization and energy efficiency upgrades
Up to $3,600 off of a heat pump
Free air conditioning units
Free home repair services
Have an electrification question?
We've got answers! Visit our Facebook group and post your question today.
Become an ElectrifyPDX Volunteer Ambassador!
Want to help us spread the word about electrification? We love giving presentations!
If your church group, employer, non-profit org, trade group, etc. would be interested in hearing us speak, please email shannon@electrifypdx.org